5 Mistakes to Avoid when Buying a Used Car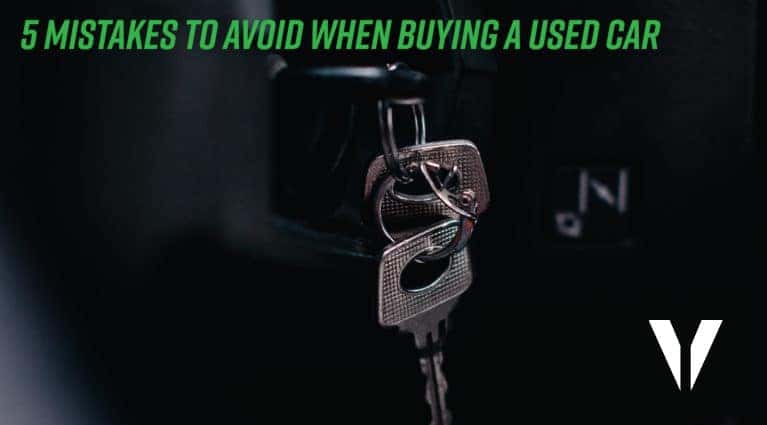 Car buying can be a frustrating process, and without having a basic idea of what you want to buy, it can be even harder. Mistakes during the car buying process can lead to mismanaged finances, mechanical problems, and issues that could have been avoided. Whether you are buying from a dealership or a private seller, you must avoid some simple mistakes to make negotiating and purchasing a used car as smooth as possible.
Choosing a Vehicle based on Make
Everyone has their favorite make and model, but choosing a vehicle based on your preference can limit your car buying options significantly. Sometimes it is difficult to put emotions to the side but weighing all your options can save you a lot of money down the road with maintenance and fixes. To avoid this issue, simply do your research and know the value of the car you are shopping for, being aware of which similar vehicles can give you the same bang for your buck.
Rushing Through the Process
Sometimes the process may seem easy. You find an awesome car with all the tech/features you want, and it is even listed for less than you thought it would be! Pulling the trigger on a purchase in this situation is tempting, but it is crucial to do your due diligence and fully inspect the car. Take it for a test drive, get it checked out by a mechanic, and view the report on the vehicle to get a full scope of why it is priced the way it is, rather than purchase the vehicle based on initial feel. This step will also save you down the road!
Skipping the Test Drive
No car should ever be bought without a test drive. How are you supposed to get a feel for a ride if you haven't been behind the wheel? This step is often overlooked, especially in today's market because of the lack of inventory in dealerships across the world. Vehicles always look good on paper and pictures, but there is no way to know for sure how they will look and feel until you are behind the wheel. Consumer Report recommends a minimum of 30 minutes behind the wheel of a potential new to your car, allowing ample time for you to get the best feel before purchase.
Underestimating Common Safety Features
With technology on the road today, safety can kind of take a backseat as being a priority when buying a pre-owned vehicle. Like extras, however, safety features are not all created the same. Before stepping on the lot, it is crucial to research safety features that will best benefit your daily needs, as well as your family's needs. Certain features can cut down on the number of accidents and will keep you and your car on the road longer.
Being Unprepared
These points summarize into one overall mistake people can't seem to avoid: being unprepared. Not having proper research or numbers ready the second you step onto the lot will put you at a disadvantage from the beginning. Take your time, be prepared, and this will lead you to be a confident car buyer no matter where you go!
Follow these steps and you will have a smooth car buying experience guaranteed! Take the fear out of car buying and turn it into confidence. For more information on car buying please view our used car buying guide!
Are you in the market for a pre-owned car? Shop our selection today!