History Report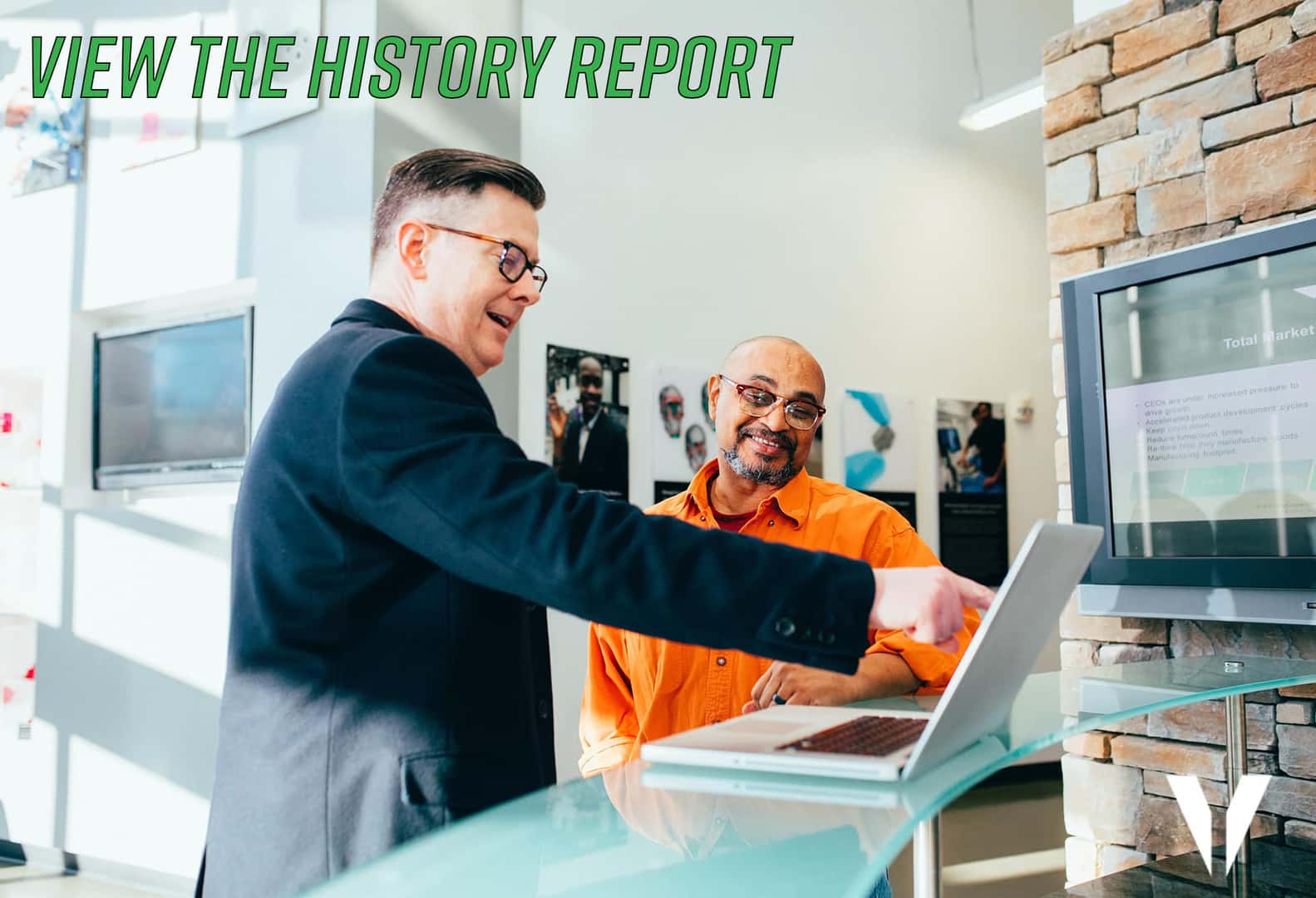 So, you're searching for the perfect used car. Whether you're buying from a reputable dealership or a private party, getting a vehicle history report is an important step in the car-buying process. Vehicle history reports (VHR) help to shed light on where a vehicle came from, how many people have owned it, whether it's been in an accident, and plenty of other vital information.
How to read a vehicle history report & what to look for
Vehicle history reports are a hub for all you need to know about your prospective new ride. Sifting through all that information can be overwhelming. So, what should you look for in a vehicle history report?
Ownership History: The number of owners a vehicle has had can be a tell-tale sign of whether it should be at the top of your list. Vehicles with multiple owners over a short period of time can be an indicator that the car needs expensive repairs, or that it may not have been well-taken-care-of over time.
Location: Not all regions are as car safe as we'd like to think. Coastal areas or places with frequent heavy snowstorms can take a toll on vehicles. Sand and salty air in coastal areas can cause damage to the exterior paint as well as the undercarriage of the vehicle. Similarly, areas that see a lot of snow are not very car-friendly due to the excessive salt residue on the road. Be sure to keep an eye out for previous locations of the vehicle.
Accidents: One of the most obvious things to check for on a VHR is accident history. These reports will showcase general information about any major (and some minor) accidents the vehicle has been in. This is one of the key components most buyers are interested in. Major accidents can be a big red flag to car buyers, so make sure to pay close attention to the vehicle's accident history. When cars have accidents there is more often or not significant damage, and damage can lead to the car being unsafe or unfit to drive.
Odometer: Truth be told, not everyone is as honest and upfront as we would expect. If you're buying from a third party, be sure to check the odometer to make sure the seller hasn't rolled back the mileage to make the vehicle seem more desirable. While this doesn't happen often, it's always something to keep an eye out for.
What vehicle history report is the best?
While there are a variety of vehicle history reports you can find online today, two of the most popular are CarFax and AutoCheck. Both websites are commonly utilized by car buyers to help provide additional information before a purchase is made.
While AutoCheck provides important detailed information, some users find it confusing since AutoCheck provides an overall vehicle score. This can sometimes be misleading since the score isn't out of 100 (which some users expect). You might see a used Toyota Camry with a score of 82 and think "Wow, it's in pretty good shape!" but if the score range is between 80 and 95, that Camry really isn't looking too favorable. Make sure to always check the score range on AutoCheck reports to make sure the vehicle is as good as it seems.
CarFax on the other hand, while a very helpful and detailed tool, can be pretty spendy. Make sure to research both platforms to find out which best suits your specific needs.
How much do vehicle history reports cost?
The cost of vehicle history reports varies depending on which site you use and how many reports you purchase. For example, you can buy one vehicle history report from CarFax for $40, 3 for $79.99 or 5 for $99.99. AutoCheck, on the other hand, is a bit more affordable, offering single reports for $24.99, or 25 reports for $49.99. AutoCheck also offers a $99 package which allows you to receive 300 reports!
Should I get a vehicle history report on my current vehicle?
Short answer: YES.
Long(er) answer: while it is important to get a vehicle history report on vehicles you're considering buying, keep in mind it's also a good idea to get a VHR on your current car. If you are selling or trading your current vehicle in, it is good practice to get a VHR so you know exactly what to expect before selling or trading it in. Say, for instance, you go to trade in your reliable 15-year-old car, you get to the dealership, they run a VHR and it turns out the previous owner was in a major accident but failed to disclose that information to you when you purchased it. Now your vehicle may be worth significantly less than you had imagined, and your trade-in value just dropped drastically. Getting a VHR on your vehicle before trade-in should be at the top of your list.
Can I get a vehicle history report for free?
While both AutoCheck and CarFax charge subscription fees for their detailed vehicle history reports, there are other options available. Some websites offer free VIN lookups, which will give you general information, but don't dig deep into vehicle history, maintenance, and title information.
Additionally, some dealerships are willing to provide a free VHR for you if you show interest in a vehicle on their lot. Make sure to ask your local dealer if they can provide a VHR at no cost.